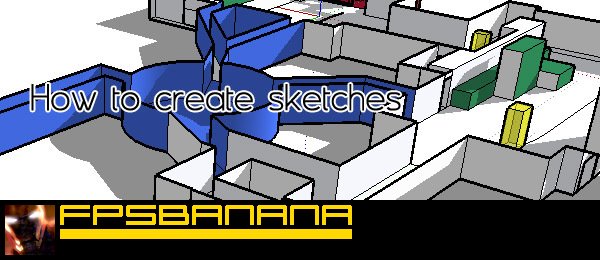 Recently there have been Payload threads with sketches using SketchUp, this makes your sketch incredibly clean and good looking.
You can download SketchUp here:
http://sketchup.google.com/

After you have downloaded and installed it open it up. Before we start, you need to know the most important tools in SU (SketchUp) Line tool - Draws lines Rectangle tool - Draws rectangles (duh) Circle tool - Draws circles Arc tool - Like the line too except it draws arcs Eraser - Removes lines and arcs Paint Bucket tool - Paints surfaces with different textures Push/Pull tool - Stretches and scales draws Move/Copy tool - Move lines Orbit tool -Let's you change your view Pan tool - Let's you Navigate around in 3D
I used these tools to make this:
Want to create stuff like that? Read on
Ok, so let's start!
-Make a basic layout of your map using one of the draw tools, now pull them up with the Pull/Push tool.

-Now select the top roofs (optional) this is the method I used.
-Now press delete and you should be done! You can alos make some carves as doors.

Use the Paint Bucket tool to color your surfaces;

After that your pretty much done, if you got any questions, just ask.